Let's learn how to mine Pi coin.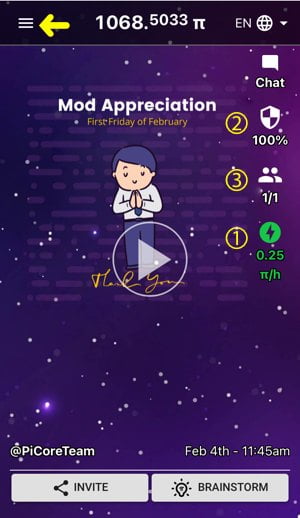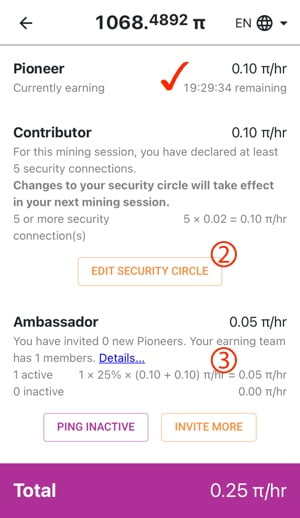 Pritisnite gumb za rudarenje na vrijeme.Sesija rudarenja se obnavlja svaka 24 sata.
Učinite sigurnosni krug punims 5-10 članova koji će sigurno proći KYC. Možete napraviti sigurnosni krug u 4 sesije zarađivanja od prvog rudarenja. Pi korisnici u kontaktima vašeg telefona ili vaš tim za zaradu mogu biti član kruga.
Nije poznato prolaze li maloljetnici KYC. Dakle, bolje da ne dodajete svoju djecu u sigurnosni krug.
Učinite svoj tim za zaradu velikim.To je ključna točka za zarađivanje mnogo Pi novčića. Nema ograničenja u broju, a nagrade su prilično velike. Osvajanje timskih nagrada pozvanih s vašim kodom potpuno je vaše. To se ne tiče vašeg pozivatelja. Vaš pozivatelj postaje vaš prvi član tima koji zarađuje.
Pozovite svoje prijatelje, obitelj i poznanike i upotrijebite web alat kao što je blog, YouTube ili internet zajednica kako biste izgradili svoj tim za zaradu.
Konfigurirajte stopu blokiranja. Tab 3bars of Pi app's upper main screen – tab Mainnet – Configure lockup rate. You can get large bonus rewards according to lockup period and amount.
Bonus za korištenje komunalnih usluga. Your activity on Pi browser are monitored by Pi server, so you can get some rewards. The reward amount is determined by the number and proper usage time of apps in Pi Browser.
PokreničvorPi mreže.